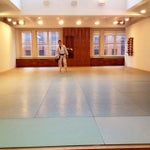 Aikido Kokikai
Closed Today
Interview with Gary Snyder Sensei
Founder of Warrior Bridge
Q. I know you have been teaching Aikido for close to thirty years why are you now starting Warrior Bridge, a school where you will be teaching Aikido amidst other practices of Tai Chi, Jiu Jitsu, Yoga and Meditation?
A. A mixture of the practical and the ideal practically, it makes sense, if possible, to use a rented space in Manhattan for more use and income. But on the more ideal level, I have been thinking about this idea for ...
Interview with Gary Snyder Sensei
Founder of Warrior Bridge
Q. I know you have been teaching Aikido for close to thirty years why are you now starting Warrior Bridge, a school where you will be teaching Aikido amidst other practices of Tai Chi, Jiu Jitsu, Yoga and Meditation?
A. A mixture of the practical and the ideal practically, it makes sense, if possible, to use a rented space in Manhattan for more use and income. But on the more ideal level, I have been thinking about this idea for at least five years it reflects my own path and evolution as a martial artist. I have practiced Yoga for over twenty years and Tai Chi for the last seven years. Both Yoga and Tai Chi are meditative practices, which has moved me more recently to daily meditation practice. I am a strong believer that a teacher models being a martial artist as much as they instruct others practicing all that is to be offered at Warrior Bridge sets up a model for martial arts practice.
Q. You didnt mention Jiu Jitsu do you practice that as well?
A. I started a few times but both times got hurt. That said, I enjoyed aspects of training and have respect for the art. In forming Warrior Bridge, Sean Langhaus, who will direct the Yoga program, and who also practices Brazilian Jiu Jitsu (BJJ), introduced me to Dan Covel, who teaches BJJ. I practiced with Dan and liked his approach, and felt that it would complement the other practices. He also had a sensitivity to Jiu Jitsu practice as an art, and shared my concern about it being taught safely. I plan to train with Dan at Warrior Bridge again, it seems I am setting up a place that will give me everything I want for my own training!!!
Q. You are opening at 275 Water Street, in the Southport Seaport what brought you to that area?
A. I have been looking at space in Manhattan, and most of the spaces are prohibitively expensive, and tucked away on upper floors of buildings. 275 Water Street is a beautiful landmarked ground floor space on a quiet street of cobblestones. I like that we are on the ground floor, and our practice can be seen through large storefront windows, and I also like the peace and intimacy of this special place in the shadow of the Brooklyn Bridge.
Q. Are you concerned that your students who have been training mid-town will have difficulty coming all the way to the South Street Seaport?
A. Location is certainly a concern, and some people say that your core practitioners are within a 20 block radius. We are very accessible to Brooklyn and the Lower East Side, and I think we will draw from a much larger area of New York City you can only practice the Kokikai Aikido that I teach in my dojo, all of our teachers are of the highest level, and we are creating a community of like-minded people. When we practice regularly we become friends with others who do the same some of my best and longest friendships come through my martial arts practice.
Q. What will the schedule look like?
A. We are still working it out, but right now it looks like on weekdays there will be Aikido offered four nights, Yoga four nights, Tai Chi three nights, Brazilian Jiu Jitsu two nights, Introduction to Meditation one night, and a mixture of classes on Saturday and Sunday mornings. We will also have a regular 7-7:30AM meditation class every weekday, and as we develop, mid-day classes. By the time anyone reads this interview the schedule should be up on the www.warriorbridge.com website.
Q. How often will you be teaching?
A. I plan to teach the Monday, Wednesday and Thursday night classes and most probably will be doing the other classes offered those evenings. My black belt students are wonderful teachers, and will teach Aikido when I am not there.
Q. What brought you to Tai Chi?
A. I always thought I would study Tai Chi someday, but in my mind I planned to study it when I got older so I guess I got older!!! Once I started, (which was about seven years ago) I realized very quickly that Master William C.C. Chen was a great Tai Chi master. The first few years I focused primarily on his 60 movement form. I now continue to practice the form, but also enjoy push hands and applications one of the hardest things I have ever done as a martial artist is to learn how to simply punch the way Master Chen demonstrates!!!
Q. So you feel that Tai Chi is also an effective martial art?
A. Without question the form as Master Chen teaches it is loaded with practical technique, and I have never encountered a punch as strong, and one that can be thrown from such a short distance.
Q. How and when will Meditation be taught and practiced?
A. We will offer Meditation from 7 to 7:30AM every weekday morning. Meditation at Warrior Bridge will be led by Joseph Mauricio, who has over thirty years of experience as a meditation teacher, and has studied meditation with many teachers, most notably Pema Chodron and Sakyong Mipham, lineage holder of the Shambhala Tradition. Joe will also offer a Dharma talk after the 7AM Wednesday class, and an Introduction to Meditation class on Wednesday evening.
Q. How did you get into Aikido?
A. I began my martial arts training in 1976 I took a year off from college after my junior year, and was a ski bum in Sun Valley, Idaho. But turns out the winter I was there they had the least amount of snow in 100 years, so I had time on my hands, and began studying Goju Ryu Karate. I continued Karate through college and the year after, but switched to Chinese gung fu after moving to Los Angeles in 1979. Gung Fu, as taught by James Wing Woo and his student, Victor Walker, first introduced me to relaxed strength when Victor first saw my punches, he said you are choking it to death. After two years of intensive gung fu study, I moved back to New York City, and looked for a place to continue my martial arts training. I decided I didnt want to learn another way to kick, punch and block when I saw Aikido, it was so different something inside said yes and I began training at New York Aikikai with Sensei Yamada. A year later I moved to Princeton, New Jersey, and found Aikido at the Princeton YMCA being taught by David Nachman and his wife Veronica Burrows. They were students of Shuji Maruyama Sensei, who was at that time affiliated with Ki Society Aikido, which was founded by Koichi Tohei.
Q. Coming from over five years of karate and gung fu, what did you think of Aikido as a martial art?
A. Good question! Truth is I didnt really believe in it I always thought to myself if I got in to a fight, I would need to use my blocking and striking skills. The funny thing is that didnt get in the way of my commitment to training I trained hard and regularly. It took at least five years before I began to realize how sufficient Aikido was.
Q. You said you began your Aikido practice with Sensei Maruyama when he was affiliated with Tohei Sensei when did Sensei Maruyama found Kokikai Aikido?
A. About two years into my training Sensei left Tohei and founded Kokikai Aikido. My sixth and fifth kyu certificates were signed by Tohei Sensei. Sensei always told me how strong and advanced he thought Tohei Sensei was. But Sensei felt that for some reason Tohei was not able to convey this to his students. Kokikai Aikido was founded with the belief that, as Sensei says, If I can do it, you can do it. There is a lot of truth to this, and I am proud of how strong Kokikai practitioners are. That said, I think a martial artist like Sensei Shuji Maruyama is quite rare he is now in his late 70s, weighs 127 pounds, and still throws the biggest students around like ping pong balls it is quite amazing to watch and feel.
Q. I read the tribute to Sensei Maruyama that Gakku Homma Sensei of Denver wrote The Silent Pioneer: Shuji Maruyama Sensei, Kokikai Founder. He says that Sensei Maruyama was sent to teach Aikido in Cleveland in 1966. Were other Aikido teachers in the United States at that time?
A. Im not sure I believe Yamada Sensei was in New York previously, but that might be it.
Q. What does Sensei Maruyama say of those early years?
A. He says America was my greatest teacher. He talks about being challenged by karate, judo and boxing students, how big the Americans were, but mostly how different it was from his training in Japan which was shaped by respect for ones teachers.
Q. Does Sensei Maruyama come often to the United States?
A. Senseis dojo is in Nagoya, Japan. But he comes to the United States three times a year to teach Fall, Winter and Summer camps he usually stays for four weeks each trip.
Q. Have you visited Sensei in Japan?
A. Many times they are some of my fondest Aikido memories. Sensei has a warm dojo with loyal students. And we always go out afterwards for beer and Japanese food and good comradery!
Q. There are so many types of Yoga offered in New York City what will you be presenting at Warrior Bridge?
A. The Yoga program at Warrior Bridge will be led by Sean Langhaus, He describes his Yoga as Progressive Ashtanga, a continual evolution of the Ashtanga Vinyasa Yoga that emerged out of Mysore, India in the 1930s. The emphasis is on aligning breath and movement as well as balancing strength and flexibility. Sean will also be managing Warrior Bridge he lives on Water Street and actually found this marvelous space!!!!
Q. What are your hopes for Warrior Bridge?
A. I hope that Warrior Bridge will be a space for people to experience physical, mental and spiritual growth. I hope we have a strong community of practitioners, and I hope we are so successful that we can expand this idea in other places.
Read More
Martial Arts Class
Aikido

Aikido is a modern Japanese martial art that teaches coordination of mind and body to develop calmness in action and the strongest human condition. Aikido techniques can be effective without harming the attacker, which allows practice to be comfortable, and ethical self-defense to be an ideal. Kokikai Aikido was founded by Sensei Shuji Maruyama, an uchideshi (student who lived in the dojo) of the creator of Aikido, Morehei Ueshiba. Sensei Maruyama was one of the first Aikido instructors sent from Japan to America, arriving in 1966. There are now over fifty Kokikai dojos throughout the world. Gary Snyder Sensei has been training under Sensei Maruyama since 1981.

Tai Chi Class

Tai Chi Chuan is a centuries old Chinese internal martial art. Millions of people around the world practice it daily for its many health benefits. As a martial art, its strategy is to overcome an opponents speed and strength with stillness and softness using a relaxed and connected body. The Tai Chi taught at Warrior Bridge is Grandmaster William C.C.Chens 60 movement form. Master Chen has devoted his life to the study of body mechanics and the use of Tai Chi for self-defense and health. He has been a teacher since 1952. In 1965, he established William C. C. Chen Tai Chi Chuan in New York Citys Chelsea area. Students with over twenty years of experience with Master Chen will be teaching at Warrior Bridge.

Brazilian Jiu Jitsu

Brazilian Jiu Jitsu is a self defense system that focuses on grappling and especially ground fighting. Jiu Jitsu promotes the concept that a smaller, weaker person can successfully defend against a bigger, stronger assailant by using proper technique, leverage, and most notably, taking the fight to the ground. Brazilian Jiu Jitsu has been proven effective time and time again as a practical and effective martial art for both sport and self defense scenarios. Chris Palmisano leads our Brazilian Jiu Jitsu at Warrior Bridge, he trains weekly under the renowned Marcelo Garcia.
Yoga Class
Yoga Class

Yoga as a spiritual practice dates back thousands of years to the times of ancient India. Ancient yogis worked with their minds by utilizing postures breath work and meditation. The yoga we practice today is a much more recent development. Modern day yoga draws on these ancient practices but also integrates scientific knowledge of the human body and movement techniques drawing from martial arts, gymnastics and dance. We are proud to offer a variety of class styles drawing from different traditions. Classes range from restorative to vigorous so check our class descriptions to find the class thats right for you. Our Yoga program is led by Sean Langhaus a veteran NYC yoga teacher with training across a multitude of styles. In addition to his training in yoga, Sean is also one of the cities leading AcroYoga teachers and has been practicing martial arts for over 7 years. Any yoga related inquiries can be directed to Sean@warriorbridge.com.
Meditation & Relaxation Class
Meditation Session

Meditation is a practice that trains and quiets the mind. Joseph Mauricio will lead the Warrior Bridge meditation program. Joe has over three decades of experience as a meditation instructor, and has studied with Pema Chodron and Sakyong Mipham. A senior teacher in the Shambhala Buddhist Tradition, Joe began his studies at Karma Choling Buddhist Meditation Center in Vermont.
Reviews
View all reviews on Yelp
Do you work here? Update this business and complete it's profile.
EDIT BUSINESS INFO
Hours

Edit

Edit hours
10:00am - 11:30am

Sunday

7:00pm - 8:30pm

Monday

7:00pm - 8:30pm

Tuesday

7:00pm - 9:00pm

Wednesday

7:30pm - 9:00pm

Thursday

Closed

Friday

10:00am - 11:30am

Saturday