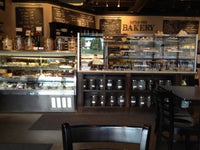 Bartram House Bakery
Open today, 7:00am - 9:00pm
Section 1
Crepes

The Crepes here at Bartram House Bakery are sure to make you mouth water. Made from scratch, our Crepes are filled w/ all of the fillings & fruit that you can handle. We must warn you, after taking your first bite you may find yourself coming back day after day for more! Bananas Foster, Mixed Berries-n-Cream, Strawberry Mascarapone, Apple Spice.

Quiche

Our Quiche is absolutely delicious. You get a full pie when you order. It is more than enough for you & you family to enjoy the delicious flavors. We have Quiche available in the following styles. Lorraine, Vegetable, Bacon.

French Toast

You can't go wrong w/ French Toast from Bartram House Bakery. One of everyone's favorties, our French Toast is made of 4 pieces of grilled custard dipped brioche.

Omelettes

The Omelettes at Bartram House Bakery are big enough to satisfy almost any appetite! Always a breakfast favorite, our omelettes come in a number of varieties. We have omelettes in the following varieties: Spanish, Western, Three Cheese, Vegetarian, The Big Greek, Egg White.

Breakfast Sandwich

Come into Bartram House Bakery for a delicious Breakfast Sandwich. All of our Breakfast Sandwiches are made fresh & served on a homemade buttermilk biscuit. Start your day off right w/ one of our hearty Breakfast Sandwiches. Egg, Tomato, Cheese w/ Sreak, Ham, Bacon, Sausage.

Breakfast Burrito

Our Breakfast Burritos all all made w/ the freshest ingredients available. Made w/ a flour tortilla, our Breakfast Burritos are sure to satisfy the most extreme breakfast appetite! Egg, Tomato, Cheese With Steak, Sausage, Bacon, Ham.
View the full menu, including services for section 2, section 3, section 4 and more.
Reviews
View all reviews on Yelp
Open today, 7:00am - 9:00pm
Do you work here? Update this business and complete it's profile.
EDIT BUSINESS INFO
Hours

Edit

Edit hours
8:00am - 4:00pm

Sunday

7:00am - 9:00pm

Monday

7:00am - 9:00pm

Tuesday

7:00am - 9:00pm

Wednesday

7:00am - 9:00pm

Thursday

7:00am - 10:00pm

Friday

7:00am - 10:00pm

Saturday