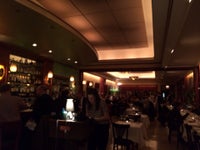 Basso56
Open today, 12:00pm - 10:30pm
salads
mesculina-e-noci

mixed field greens, roasted walnuts, marinated tomatoes and dried cranberries

rughetta-e-pere-al-caprino

baby arugula , dijon pear , fenel and cheese in a champagne vinairette .

carciofi-e-parmigiano

baby artichokes and per meson shavings with lemon and truffle oil .

bietole-e-spinaci

sliced red beets , vidalia onions , spinach leaves and dry aged ricotta cheese .

mista-della-casa

radicchio , endive , baby arugula and tomatoes with extra virgin olive oil and balsamic vinegar .
appetizer
caplamari-ai-funghi-misti

pan seaned sea scallops with sauteed wild mushrooms and aromatic oranges oil .
View the full menu, including services for dessert.
Reviews
View all reviews on Yelp
Open today, 12:00pm - 10:30pm
Do you work here? Update this business and complete it's profile.
EDIT BUSINESS INFO
Hours

Edit

Edit hours
4:00pm - 10:00pm

Sunday

12:00pm - 10:30pm

Monday

12:00pm - 10:30pm

Tuesday

12:00pm - 10:30pm

Wednesday

12:00pm - 10:30pm

Thursday

12:00pm - 11:00pm

Friday

4:00pm - 11:00pm

Saturday