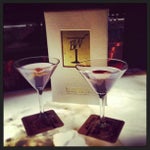 Black Water Lounge
Top Business
Open today, 4:00pm - 2:00am
Cuisine​
Fondue for Two

Blackened tenderloin, grilled chicken tenderloin, granny smith apples, grapes, toasted housemade crostinis & a crock of smoked gouda cheese for dipping.

Bleu Cheese Stuffed Shrimp

Five colossal shrimp hand-stuffed w/ bleu cheese & rolled in japanese breadcrumbs. Fried golden & served w/ our french quarter dipping sauce.

Crunchy Coconut Chicken

Chicken tenderloin hand-rolled in shredded snow white coconut & fried golden brown w/ a housemade pina colada dipping sauce.

Fried Lobster Bites

Large bites of succulent lobster dusted w/ tempura batter & lightly fried. Served w/ our marmalade & red pepper dipping sauce.

Blackened Roquefort Medallions

Tenderloin​ medallions blackened & served on housemade crostinis w/ melted roquefort cheese & drizzled w/ a balsamic glaze.

Kobe Beef Sliders

Three silver dollar grilled buns w/ kobe beef, caramelized onions & a mascarpone cheese & horseradish spread.
View the full menu, including services for desserts​, the martini​, mojitos​ and more.
Open today, 4:00pm - 2:00am
Do you work here? Update this business and complete it's profile.
EDIT BUSINESS INFO
Hours

Edit

Edit hours
Closed

Sunday

4:00pm - 10:00pm

Monday

4:00pm - 11:00pm

Tuesday

4:00pm - 11:00pm

Wednesday

4:00pm - 1:00am

Thursday

4:00pm - 2:00am

Friday

4:00pm - 2:00am

Saturday