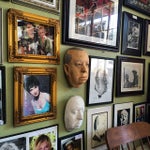 Bodega Country Store
Open today, 8:00am - 8:00pm
Section 1
Crab in a Bun

Locally picked dungeness crab meat tossed in a light ranch dressing w/ sweet pickled relish & wrapped in a soft hot dog bun.

Dungeness Crab Mac N' Cheese

Tri colored rottini pasta tossed in a house made white wine-monterrey jack- parmesan cheese sauce, fresh locally picked dungeness crab, toasted herbed breadcrumbs, roasted bell peppers & garlic coulis, garnished w/ sliced scallions
Smoked Chowders‏
Smoked White Clam Chowder

Chef michael set off to make a healthier, flourless, bacon free chowder, while retaining the flavor profiles & improving the classic clam chowder. "By replacing smoked clams w/ the bacon, the smoked clams retains the flavor profile of the bacon",

Smoked Red Clam Chowder

this gluten & dairy free, red clam chowder retains the flavor & components of the traditional Manhatten clam chowder. Using similar method of replacing smoked clams for the bacon component, we use red wine, fresh garlic, vegetables & spices to complete this favorite chowder. "We love this chowder over pasta & parmesean cheese, red chowder may be difficult to find, especially in the land of white chowder.

Smoked Salmon Chowder

Another favorite of the bodega country store, this gluten & bacon free chowder. Smoked & fillet salmon are used here. Other components include fresh ginger, forestville sauvignon blanc, & roasted corn. "This chowder is slowly becoming our most popular chowder. This is the only smoked salmon chowder made in the area.
Reviews
View all reviews on Yelp
Open today, 8:00am - 8:00pm
Do you work here? Update this business and complete it's profile.
EDIT BUSINESS INFO
Hours

Edit

Edit hours
8:00am - 8:00pm

Sunday

8:00am - 8:00pm

Monday

8:00am - 8:00pm

Tuesday

8:00am - 8:00pm

Wednesday

8:00am - 8:00pm

Thursday

8:00am - 8:00pm

Friday

8:00am - 8:00pm

Saturday