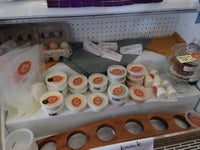 Briar Rose Creamery
Top Business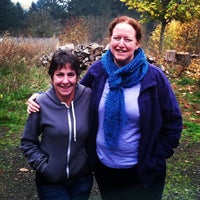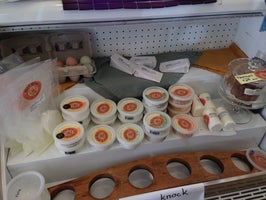 Fresh Cheeses​
Classic Chevre

Chevre​ is the essence of what we do, creamy, smooth, w/ just a hint of fresh citrus on the finish. Toss aside any preconceived notions that you have about goat cheese; this is how chevre is supposed to taste. Crumble it on a green salad or a pizza, spread it on a bagel, or mix w/ a little honey & serve it w/ fresh strawberries.

Lemon-Dill Chevre

A light, refreshing variation on our classic chevre. We add a dash of dill & a squeeze of lemon juice to produce a cheese that serves as the perfect topping for virtually any fresh wild salmon or halibut. Also great on eggs, roasted vegetables, or melted on top of a baked potato.

Garlic-Herb Chevre

One​ of our most popular flavors. we add a touch of garlic along w/ a blend of Italian herbs to make this flavor sing an aria on your palate. stuff it inside a chicken breast & bake, tuck it inside an omelet, or toss it w/ warm pasta for an instant cream sauce – w/ less fat & calories.

Rosemary & Peppercorn Chevre

If you're thinking about steak, pork, lamb, or game, give some serious thought to rosemary & peppercorn chevre. We blend a dollop of rosemary & cracked black peppercorns w/ the cheese, & then add a little olive oil to give it an extra-rich texture. Smear a little on top of a sizzling steak, chop, loin, or piping hot portobello mushroom.

Spicy Chipotle Chevre

If you have a taste for cheeses that pack a little heat, this one's for you. The spiciness doesn't hit you right away, but just wait a few seconds, then hold on! But just as quickly as it warms your palate, it slips away, leaving you wanting more. We also add a bit of sun-dried tomatoes to round out the flavor. It goes great on a burger, spread across a pulled pork sandwich, or neatly atop your favorite enchilada.

Chocolate-Goat Cheese Truffles

These truffles are our secret weapons. We create them from high-quality chocolate, our classic chevre, & all importantly, a very secret recipe. These delectable gems melt in your mouth, leaving you w/ a flavor reminiscent of chocolate cheesecake, only better. Want to make a good impression on someone? Give them a package of chocolate-goat cheese truffles.
View the full menu, including services for aged cheeses​.
Reviews
View all reviews on Yelp
Do you work here? Update this business and complete it's profile.
EDIT BUSINESS INFO