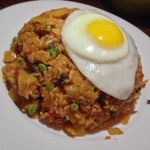 Chi Mc Chicken and Beer
Top Business
6653 Little River Tpke #H
Sauces​
Soy Sauce

For those that believe that sauce is the key to a good wing, you are welcome, our soy garlic sauce is truly one-of-a-kind, blending perfectly sweetness & savory-ness in each addictive, crunchy bite.

Hot Sauce

there are people that can handle hot, & then there are people who can handle Bonchon, it's not that it is spicier than other sauces, but because one bite suddenly becomes twenty wings, sometimes there's no time for milk.
Chicken​
Wings

the classic wing takes many forms, but Bonchon wings are special, people love our wings, & our 'wing specialists' have discovered why, each bite has the perfect ratio of meat to sauce. all that's left is the bone.

Drumsticks

for that primal instinct to eat our food w/ our hands, the drumstick satisfies the beastly hunger we all have inside us. meatier & juicier, yet still crunchy & still crispy, thanks to Bonchon's double-frying technique.

Strips

eating​ Bonchon chicken is not a race, but, we know you want to eat each piece as fast as possible so you can taste that first bite of the next piece, we've taken out any bones or other obstacles out of your way, just for you.
Reviews
View all reviews on Yelp
6653 Little River Tpke #H
Edit
6653 Little River Tpke #H
Do you work here? Update this business and complete it's profile.
EDIT BUSINESS INFO