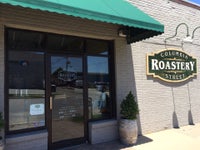 Columbia Street Roastery
Csr Varierals​
Brazil Yellow Bourbon

A medium body and very mild acidity, it has several detectable notes: dry spiciness, allspice and nuttiness, all of which are characteristics of a great brazilian coffee.

Colombian Supremo La Paez ¨C

This coffee is well balanced fruity, sweet with good body and slight chocolate notes.

Costa Rican La Dama Tres Rios ¨C

Sweet, clean, tangy, rich and a medium body are all attributes of this delightful coffee.

Guatemala Huehuetenango ¨C

The chocolate notes predominate in this full-bodied coffee, yet it still produces a slight tartness, thus creating a delightful balance.

Kenya Aa ¨C

This is a complete coffee that offers a hearty aroma, solid body, a slight sharpness and the blackberry or black currant notes of a deep red wine.

Malawi Mzuzu ¨C

This coffee personifies a softer, more floral style of east african coffees. It is medium in body, bright, sweet and displays delicate berry notes.
View the full menu, including services for blends​, espresso blends​ and section 4.
Reviews
View all reviews on Yelp
Do you work here? Update this business and complete it's profile.
EDIT BUSINESS INFO