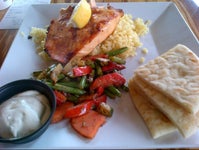 Daphne's California Greek
Top Business
10562 Craftsman Way Ste 192
starters
fire-feta--pita

fire-feta--multigrain-pita-chips

original, roasted red pepper or pesto

lemon-chicken-soup

premium-hummus--pita

fire feta, guacamole, original hummus, sliced cucumbers, and multigrain pita chips
salads
Served With Pita, Tzatziki Sauce And Classic Greek Or Greek Lite Dressing.
california-greek-salad

a crisp salad with roasted chicken, fresh avocado, pine nuts, roma tomatoes, served with pita yellow corn, feta cheese, carrots, cucumbers and mixed greens with gorgonzola vinaigrette

chicken-pine-nut

roasted chicken and mixed greens tossed in pomegranate dressing, topped with pine nuts and gorgonzola cheese, served with pita
View the full menu, including services for dessert, plates, sandwiches and more.
10562 Craftsman Way Ste 192
Edit
10562 Craftsman Way Ste 192
Do you work here? Update this business and complete it's profile.
EDIT BUSINESS INFO