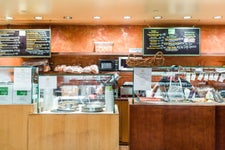 Fresco On The Go
dinner-entree
crispy-free-range-chicken

lemon and herb marinated half chicken, summer new potato, and string bean salad, fresh herb vinaigrette.

fresco-grilled-sausage

sweet italian sauce filled with cheese and parsley, ragu of sweet roasted peppers, cipollini onion, shell beans, broccoli rabe, garlic and rosemary, extra virgin olive oil and aged balsamic.

spiced-seared-and-sliced-yellow-fin-tuna

baby zucchini, heirloom cherry tomatoes, butter bean, haricot verts, oven roasted tomato and herb broth.

scottish-salmon

roasted candy cane and yellow beets, sugar snap peas, fennel leek puree, orange blood vinaigrette

poached-branzino

roasted zucchini, yellow squash, parsnip, butternut squash and baby spinach , oven roasted sweet bell pepper and organic carrot puree, vin cotto.
appetizers
steamed-manila-clams

chick peas, escarole, roasted cherry tomatoes, white wine, fennel, saffron and herb broti
View the full menu, including services for pasta, fersco-originals and for-the-table.
Reviews
View all reviews on Yelp
Do you work here? Update this business and complete it's profile.
EDIT BUSINESS INFO
Hours

Edit

Edit hours
Closed

Sunday

6:30am - 4:00pm

Monday

6:30am - 4:00pm

Tuesday

6:30am - 4:00pm

Wednesday

6:30am - 4:00pm

Thursday

6:30am - 4:00pm

Friday

Closed

Saturday