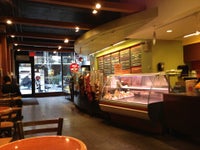 Hale & Hearty
Open today, 10:00am - 5:30pm
ready-made-salads
Our Ready-made Salads Are Made Fresh Everyday. Dressing Is Served On The Side. Each Salad Includes A Choice Of Bread Or Crackers.
tuna-on-greens

hale & hearty's classic tuna salad on greens.

chicken-caesar-salad

this is a classic chicken caesar salad, served with our homemade caesar dressing.

california-cobb

served with chicken, avocado, blue cheese, egg, tomato, cucumber, croutons, red onion.
everyday-soup-salad-combos
chicken-vegetable-wsalad

hale & hearty's most popular soup is loaded with white meat chicken and fresh vegetables. this chicken soup combines home made chicken broth with just the right amount of fresh dill.

tuscan-white-bean-wsalad

a wholesome combination of the finest italian cannelini beans, spinach and vegetables.

tomato-basil-with-rice-wsalad

this is an italian style tomato soup that is loaded with rice and fresh basil.
View the full menu, including services for desserts-and-chips, extra-bread, soup-sandwich-combos and more.
Reviews
View all reviews on Yelp
Open today, 10:00am - 5:30pm
Do you work here? Update this business and complete it's profile.
EDIT BUSINESS INFO
Hours

Edit

Edit hours
Closed

Sunday

10:00am - 5:30pm

Monday

10:00am - 5:30pm

Tuesday

10:00am - 5:30pm

Wednesday

10:00am - 5:30pm

Thursday

10:00am - 5:30pm

Friday

11:00am - 4:00pm

Saturday