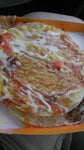 KFC
Open today, 7:00am - 10:00pm
Services
Orignal Recipe

Colonel's secret recipe. This is it - one of the world's most delicious secrets. Colonel sanders created the perfect blend of 11 herbs and spices in corbin kentucky more than 70 years ago, and it's that same secret recipe that's loved all over the world today. The irresistible taste of original recipe starts with chicken delivered fresh from trusted suppliers like tyson. Then it's made fresh, seasoned with the 11 herbs and spices and hand breaded throughout the day by a certified cook.

Extra Crispy

So crunchy, it's loud. This is chicken for anyone who believes that the crunchier and crispier chicken is, the better. In other words, this is fried chicken-lover's fried chicken. KFC extra crispy starts with chicken delivered fresh. then It's prepared fresh with a painstaking double hand breading process by real cooks and fried to crispy golden perfection. Every bite is a bite of tender, juicy chicken with a flaky, crunchy coating that lives up to its name.

Kentucky Grilled Chicken

Better-for-you option with the savory flavor of KFC. Kentucky grilled chicken starts with chicken that is marinated and delivered fresh to KFC restaurants, then seasoned and slow-grilled to juicy perfection. The cooking process includes a savory blend of spices that is KFC's newest secret recipe and utilizes custom-designed, patented grilling ovens, for mouthwatering, fall-off-the-bone taste.

Colonel's Crispy Strips

Tender, crispy chicken strips. These are the chicken strips you'd expect from the chicken experts. Every strip is made from juicy, 100% premium all-white meat chicken breast, marinated and double-breaded in our special seasonings. They taste good enough to eat on their own or dip them in one of our flavorful sauces.

Hot Wings

Juicy bone-in wings. Our meaty chicken wings are marinated in chili peppers and spices on the inside, keeping the outside crispy, crunchy and sauce-less. So the difference isn't what's on the wing, it's what's in the wing. Every bite starts crunchy and finishes spicy. Pick some up for the party, the big game, or just to spice up lunch or dinner.

Home Style Biscuits

Our famous, flaky biscuits. Our freshly baked, warm, flaky, buttermilk biscuits have become one of the most popular items on the KFC menu. One taste and you'll know why.
View the full menu of services.
Reviews
View all reviews on Yelp
Open today, 7:00am - 10:00pm
Do you work here? Update this business and complete it's profile.
EDIT BUSINESS INFO
Hours

Edit

Edit hours
7:00am - 10:00pm

Sunday

7:00am - 10:00pm

Monday

7:00am - 10:00pm

Tuesday

7:00am - 10:00pm

Wednesday

7:00am - 10:00pm

Thursday

7:00am - 10:00pm

Friday

7:00am - 10:00pm

Saturday