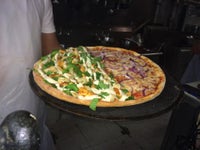 Kingston Pizza
Cheapest
Open today, 10:30am - 9:30pm
pizza
Small - 10" 6 Slices / Large - 14" 8 Slices / Big City Xlarge - 18"
small-1-item-pizza

small-with-3-items

small-cheese-pizza

small-with-4-or-more-items

small-with-2-items
salads
Small / Large. All Salads Are Topped With Red Onion, Croutons, Olives & Hot Peppers.c
grilled-chicken-salad

grilled chicken lettuce, tomato, cucumber, romano cheese
View the full menu, including services for dinners and appetizers.
Reviews
View all reviews on Yelp
Open today, 10:30am - 9:30pm
Do you work here? Update this business and complete it's profile.
EDIT BUSINESS INFO
Hours

Edit

Edit hours
Closed

Sunday

11:00am - 9:30pm

Monday

10:30am - 9:30pm

Tuesday

10:30am - 9:30pm

Wednesday

10:30am - 9:30pm

Thursday

10:30am - 11:00pm

Friday

10:30am - 9:30pm

Saturday