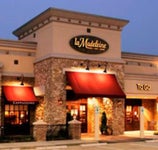 la Madeleine French Bakery & Café Lemmon
Open today, 6:30am - 10:00pm
signature-crpes
Add Your Choice Of Sides To Any Crêpe For $1.69 Each.
shrimp-crpe-florentine

shrimp, tomatoes, garlic, spinach and pesto cream sauce

chicken-crpe-riviera

rotisserie chicken with garlic, broccoli and tomatoes in a creamy pesto sauce

crpe-romanoff

sweet crêpe topped with fresh strawberries, our signature brandy sour cream sauce and cinnamon
pastas
chicken-pesto-pasta

marinated chicken breast and bowtie pasta with pesto cream sauce, garnished with parmesan and diced tomatoes

mediterranean-pasta

bowtie pasta, mushrooms, garlic, artichoke hearts, roma tomatoes and kalamata olives tossed in pesto sauce

tomato-basil-pasta

bowtie pasta with spinach and mushrooms in tomato basil cream sauce with a hint of pesto, served with chicken or shrimp
View the full menu, including services for fresh-salades, homemade-soupes, cold-sandwiches and more.
Reviews
View all reviews on Yelp
Open today, 6:30am - 10:00pm
Do you work here? Update this business and complete it's profile.
EDIT BUSINESS INFO
Hours

Edit

Edit hours
6:30am - 10:00pm

Sunday

6:30am - 10:00pm

Monday

6:30am - 10:00pm

Tuesday

6:30am - 10:00pm

Wednesday

6:30am - 10:00pm

Thursday

6:30am - 10:00pm

Friday

6:30am - 10:00pm

Saturday