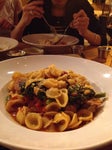 Open today, 5:00pm - 10:30pm
artisan-cheeses
Choose: 2 For $11.00; 3 For $15.00; 4 For $20.00; 5 For $25.00. Add Any Olive Oil To Your Selection For $1.00.
tomme-de-savoie

cow- (normandy, france) decadent tripple cream, buttery (pasteurized) -strawberry preserves

pierre-robert

goat- (cypres grove, california truffles, earthy, sophisticated (pasteurized) -clover honey

robiola-bosina

cow & sheep- (lombardy, italy) brie-like, grassy with butter tones (pasteurized) -chestnut honey

great-hill-blue

raw cow- (marion, ma) complex, rich and full flavor, a little acidic and caramelly -apple

beemster

cow- (belgium) hard, caramel notes, salty & sweet (pasteurized) -apple

cypress-grove-humboldt-fog

sheep (romagna, italy) aged pecorino rubbed with juniper berries and balsamic salty, nutty with a little lemony sweetness (unpasteurized) -balsamic surup
View the full menu, including services for olive-oil-list.
Open today, 5:00pm - 10:30pm
Do you work here? Update this business and complete it's profile.
EDIT BUSINESS INFO
Hours

Edit

Edit hours
5:00pm - 10:00pm

Sunday

5:00pm - 10:30pm

Monday

5:00pm - 10:30pm

Tuesday

5:00pm - 10:30pm

Wednesday

5:00pm - 10:30pm

Thursday

5:00pm - 11:00pm

Friday

5:00pm - 11:00pm

Saturday