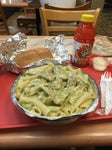 Pastafina
Open today, 10:00am - 10:00pm
hero-combinations
All Heroes Are 1 Foot Long & Served With Suggested Dressings.
fried-shrimp-on-a-hero

breaded fried shrimp, w/lettuce , tomatoe and french dressing

bavarian-hero

smoked turkey, roast beef, swiss cheese, lettuce, tomatoes & russian dressing.

chicken-mozzarella-hero

grilled chicken breast, pesto sauce, tomatoes & melted fresh mozzarella cheese

cordon-bleu-hero

chicken breast dipped in eggs & bread crumbs at one side sautéed in butter and white wine topped with ham and melted swiss cheese with mayo. smoked turkey can replace ham.

chicken-caesar-hero

grilled chicken breast, topped with caesar salad on hero bread.

chicken-cutlets-wlettuce--tomatoes-hero

chicken cutlets, lettuce, tomatoes and mayonnaise
View the full menu, including services for burgers-and-club-sandwiches, specialty-pies, beverages and more.
Reviews
View all reviews on Yelp
Open today, 10:00am - 10:00pm
Do you work here? Update this business and complete it's profile.
EDIT BUSINESS INFO
Hours

Edit

Edit hours
10:00am - 10:00pm

Sunday

10:00am - 10:00pm

Monday

10:00am - 10:00pm

Tuesday

10:00am - 10:00pm

Wednesday

10:00am - 10:00pm

Thursday

10:00am - 10:00pm

Friday

10:00am - 10:00pm

Saturday