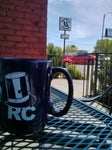 Open today, 6:00am - 12:00am

republiccoffeememphis.com
Services
Brazil

Brazil is soft, smooth & not bitter. a fine example of a natural specialty coffee dried on African beds for natural sweetness.

Indian Monsoon Malabar

Monsoon malabar is so called because the beans are exposed to the moist monsoon winds in the indian state of kerala. They swell in size & take on a soft mellow flavor. A most unusual full bodied cup w/ low acidity.

Columbian Sepremo

Supremo denotes the highest grade of Columbian coffee. this large bean coffee from the medellin area of columbia creates a very rich nutty flavor that is very popular w/ coffee aficionados. it has the perfect balance of crisp acidity & mellow body.

Sumatra Mandheling

A lot of wonderful coffee comes from many of the islands in indonesia. Sumatra, one of the largest islands, produces some of the world's finest coffees. Known for a smooth, velvety body & a unique earthiness, or "terrior" as they say in the wine business.

Costa Rica Tarrazu

Extremely bright & lively, this tarrazu originates on one farm. It has the classic bright tarrazu profile... a lemony, citrus tone & a clean aftertaste. From a small community called la pastora in the dota region of tarrazu.

Ethiopian Yirgacheffe

Ethiopia is the birthplace of coffee. Yirgacheffe coffees are known for their local aroma, bright lemon tangerine acidity, & medium/full body. This coffee has a wine-like character, fruity, lively w/ great body.
View the full menu of services.
republiccoffeememphis.com
Open today, 6:00am - 12:00am
Do you work here? Update this business and complete it's profile.
EDIT BUSINESS INFO
Hours

Edit

Edit hours
6:00am - 12:00am

Sunday

6:00am - 12:00am

Monday

6:00am - 12:00am

Tuesday

6:00am - 12:00am

Wednesday

6:00am - 12:00am

Thursday

6:00am - 12:00am

Friday

6:00am - 12:00am

Saturday