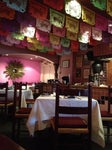 Rosa Mexicano
Open today, 5:00pm - 11:30pm
from-the-grill
tablas--beef-short-ribs

beef short ribs, marinated in beer and lemon. served with mestiza sauce (tomato-chipotle-tomatillo), pinto beans and tortillas

alambre-a-la-mexicana-mixed-grill-brochette

skewerd and grilled filet mignon, chorizo sausage, onions, tomatoes, and serrano peppers. served over house rice with tomatillo and tomato-chipotle sauces

carne-asada-con-rajas-grilled-filet-mignon

grilled filet mignon topped with a mixture of sautéed chile poblanos and sliced onions

alambre-de-camarones--shrimp-brochette

skewers of grilled shrimp, tomatoes, onions, and serrano peppers. served over house rice with roasted tomato-jalapeño caper sauce

polio-a-la-parrilla--grilled-chicken

skewered chicken, marinated in lemon, garlic, olive oil, and oregano
main-dishes
All Main Dishes Served With Family-style House Rice, Refried Black Beans And Two Condiment Salsas: Pasilla De Oaxaca And Salsa De Tomatillo Habanero
chile-relleno-de-espinaca--spinach-filled-poblano-chiles

two roasted poblano chiles filled with sauteed spinach, pine nuts and raisins. topped with a goat cheese wheel and roasted tomato sauce.
View the full menu, including services for extras, to-start and desserts.
Reviews
View all reviews on Yelp
Open today, 5:00pm - 11:30pm
Do you work here? Update this business and complete it's profile.
EDIT BUSINESS INFO
Hours

Edit

Edit hours
12:00pm - 10:30pm

Sunday

5:00pm - 10:30pm

Monday

5:00pm - 11:30pm

Tuesday

5:00pm - 11:30pm

Wednesday

5:00pm - 11:30pm

Thursday

5:00pm - 11:30pm

Friday

12:00pm - 11:30pm

Saturday