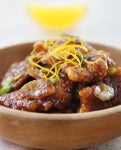 Shun Lee Palace
Open today, 12:00pm - 11:00pm
duck
*hot And Spicy
orange-press-duck-half

boneless duck steamed and shredded then press with walnuts and water chestnuts flour deep fried in high heat shower with orange sauce.

sliced-duckling-with-young-ginger-root

tender sliced barbecued boneless duckling served with sweet young ginger root and hot pepper.

crispy-smoked-duck-half

long island duckling delicately smoked over camphor wood. then roasted till crisp.

crispy-shredded-beijing-duckling

aromatic shredded duck served with homemade crepes, spring onion brushes and hoisin sauce.

braised-duck-with-seasonal-vegetables-half

boneless long island duckling steamed with peppercorn braised with honey and soy sauce. garnished with garden vegetables.
hot-appetizers
*hot And Spicy
beijing-pan-fried-dumplings-4
View the full menu, including services for shun-lee-specialties, soups, from-the-gardens and more.
Reviews
View all reviews on Yelp
Open today, 12:00pm - 11:00pm
Do you work here? Update this business and complete it's profile.
EDIT BUSINESS INFO
Hours

Edit

Edit hours
12:00pm - 10:30pm

Sunday

12:00pm - 11:00pm

Monday

12:00pm - 11:00pm

Tuesday

12:00pm - 11:00pm

Wednesday

12:00pm - 11:00pm

Thursday

12:00pm - 11:00pm

Friday

12:00pm - 11:00pm

Saturday