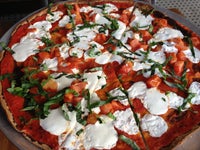 Open today, 11:00am - 12:00am
in-house---salads
Add Freshly Grilled Chicken ($4.00) To Any Salad.
caesar-salad

romaine lettuce and croutons dressed with classic caesar dressing and parmesan cheese

tre-colori

baby arugula, radicchio, endives, roasted spicy walnuts, roasted pears with homemade gorgonzola dressing

spinach-salad

baby spinach, cranberries, candied pecans, pears with lemon vinaigrette dressing

apple--cheddar-salad

cheddar, apple, bibb lettuce, toasted pumpkin seedswith cider vinaigrette

endive-salad

endive, gorgonzola, crushed marcona almonds, parsley, with sherry vinaigrette

greek-salad

romaine lettuce, black olives, feta cheese, cucumbers, yellow peppers, sweet red onions, seasonal tomatoes with extra virgin olive oil and white balsamic vinegar
View the full menu, including services for in-house---desserts, in-house---beverages---bottled-beers, in-house---beverages---red-wines and more.
Open today, 11:00am - 12:00am
Do you work here? Update this business and complete it's profile.
EDIT BUSINESS INFO
Hours

Edit

Edit hours
11:00am - 11:00pm

Sunday

11:00am - 11:00pm

Monday

11:00am - 11:00pm

Tuesday

11:00am - 11:00pm

Wednesday

11:00am - 11:00pm

Thursday

11:00am - 12:00am

Friday

11:00am - 12:00am

Saturday