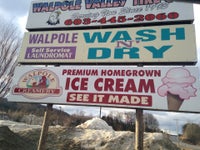 Walpole Creamery
Our Top Ten‏
Sweet Cream

Our base mix is so fresh & so good that we don't need to add anything to it to make a delicious ice cream.

Vanilla

Our sweet cream + vanilla bean = simple goodness!

Chocolate

Rich & creamy. Makes the perfect milkshake.

Maple Walnut

This is new Hampshire, of course we put maple syrup in our ice cream.

Ginger

Made w/ candied ginger. The best description we've had to date: "it's so good, it's therapeutic! "

Coffee

Both a pick-me-up & a cold treat, all in one!
View the full menu, including services for signature flavors.
Reviews
View all reviews on Yelp
Do you work here? Update this business and complete it's profile.
EDIT BUSINESS INFO